Papa Mau: The Wayfinder
Official Trailer – Papa Mau: The Wayfinder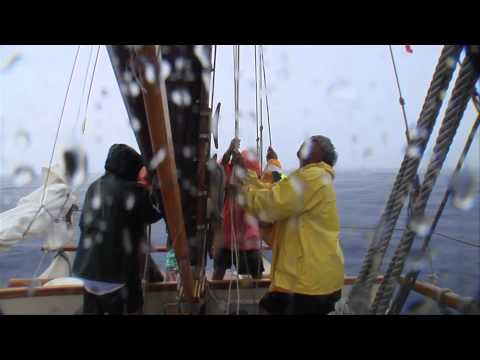 Papa Mau: The Wayfinder recounts the fundamental role that master navigator ofMau Piailug played ion reawakening Polynesian pride by teaching Hawaiians the dying art of traditional voyaging without the aid of instruments.In Satawal, navigators are chosen at birth and begin training at an early age, and Mau was recognized as a master.
By the 1970s, many Hawaiian cultural practices, including traditional navigation, had fallen victim to centuries of Western influence.  Determined to reclaim this lost Hawaiian identity and pride, a small group of visionaries built a voyaging canoe in the ancient style, with the dream of sailing Hōkūleʻa to Tahiti along the pathway recounted in oral traditions to Tahiti.  The critical missing component, however, was a navigator trained in thewho could guide the canoe in the traditional ways—using only knowledge of the heavens and the ocean.
While the art of non-instrument navigation was lost in Polynesia, it lived on in the tiny Micronesian atoll of Satawal, in a man named Mau.  Chosen at birth and trained from an early age, Mau was not only destined to become a master of this dying tradition, but he also had the singular foresight to create a wayfinding legacy for all of Oceania by sharing his knowledge with a new generation of Hawaiian navigators.  When Mau successfully guided Hōkūleʻa to Tahiti in 1976, the voyage launched a collective reawakening of cultural pride and unity throughout Polynesiathe Pacific.
Papa Mau: The Wayfinder documents three decades of Mau's legacy through voyaging adventures.  It is a story of great adversity, the testing and mending of relationships, and even loss of life, but ultimately, it is a story of collective courage and hope for Hawaiians.  Sail along on this remarkable journey of an iconic voyaging canoe and of a renewed people, both guided by the wisdom of Papa Mau, the master wayfinder who breathed life back into the sails of Polynesia's voyaging tradition.